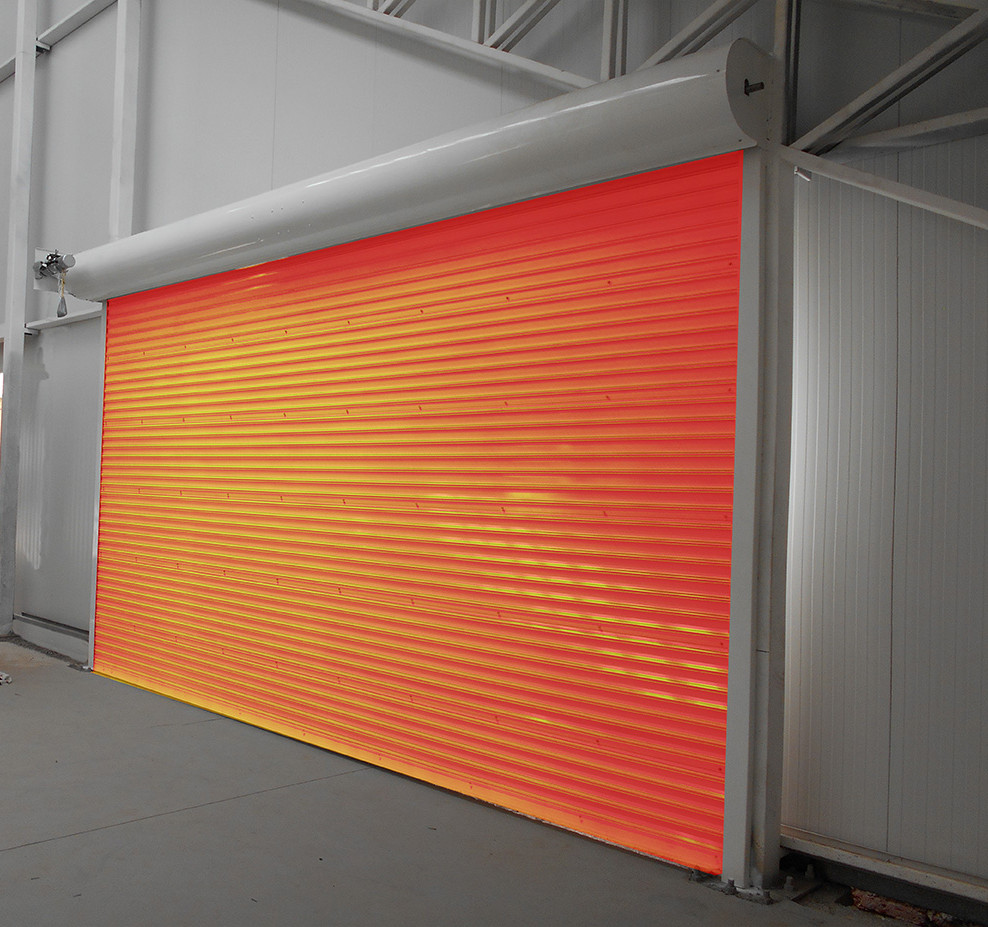 Our IDIEM certified firewall door provides a solid structure that will allow controlling the passing of flames for a period of 120 minutes.
It is equipped with a series of electrical security devices that will activate the alarm and the firewall door in presence of smoke and high temperatures.
FEATURES
SLATS
The firewall door is made up with RF-1504 semi-flat slats and RF-1504 semi-curve stainless steel slats of 90mm of width and 1mm of thickness.
REINFORCEMENT
End-locks made of black steel of 32 x 3mm, screwed on with stainless steel screws of 5/16' x 1', with a 550mm distance between each one.
GUIDES
The firewall door uses guides in both sides, and has a vertical double G-shaped angle guide of 81mm of depth and 17mm of opening.
These guides cover approximately 60mm of the firewall door.
Each "double G-shaped" guide is made with out of three profile angles screwed to the wall with stainless steel G2 "Fixser" hexagonal screws of 1/2' x 1 1/2'.
BOTTOM BAR
It has two laminated steel angle-like profiles of 65x65x5mm, fixed with stainless steel screws of 5/16' x 1', with 550mm distance between each one.
FINISHING
The "G-shaped" guide has within it a ceramic coat to offer higher resistance.
PHOTO GALLERY:
Accesorios
– Lateral motor
– Roll up door housing (optional)
– Short-circuit fuse
– Smoke detector
– Keypad
– Remote control (optional)
– Rubber seal (optional)
– Siren (optional)
– Beacon (optional)
– Ceramic coat
– End-lock