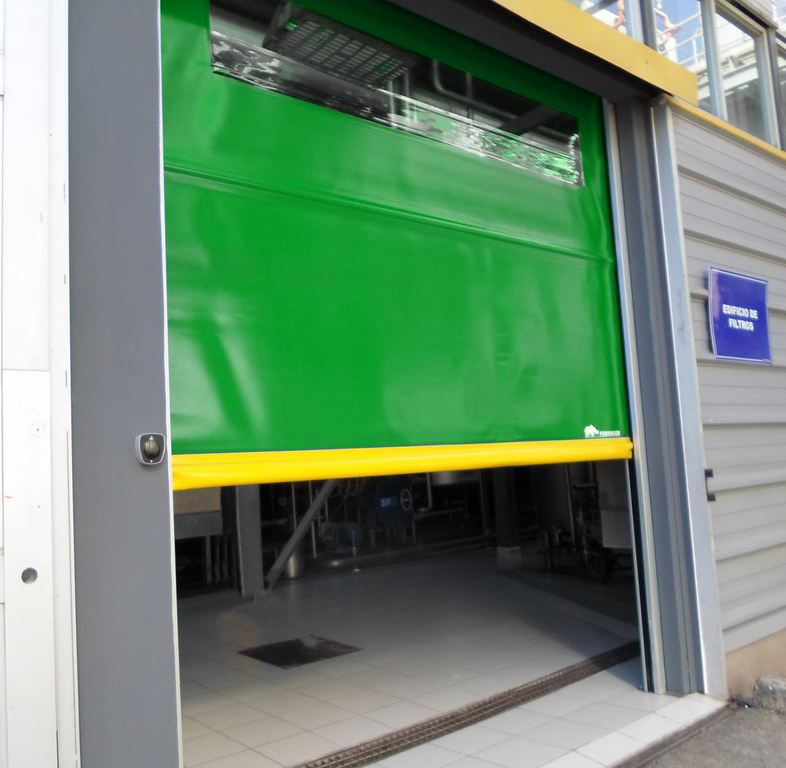 The motorized High-Speed PVC Fold Up Door offers great mechanical resistance. It can be installed in interiors and exteriors, especially in windy areas or with differential pressure. Designed for areas with accesses of large dimensions in the industrial, commercial and logistical sectors.
ADVANTAGES
It reduces airstreams and temperature loss, with class 3 resistance to wind and CE rated. It facilitates traffic fluidity, due to its high speed maneuverability and functions with a low level of noise. The structure is made with anodized aluminum and stainless steel, highly resistant to corrosion, ideal for exterior spaces. Pre-installed door that facilitates and reduces assembling time.
MOTOR
Manufactured and tested in accordance with DIN EN 12453 regulations for industrial, commercial and garage doors. DIN EN 12978 specifications and classification, in compliance with regulations for security and accident prevention.
– Energy supply: 3×380/400 VAC / N / PE
– Power: 0.65 kW
– Speed: 90 rpm
– Door speed: 0.60 m/sec
– Electronic limit switch
– Centrifugal brake mechanism
– Low noise gears
– Does not require maintenance
CONTROL PANEL
– Digital regulation control and door positioning.
– Standard model with to contactors.
– Tension interrupter for 24V, 50Hz.
– Mechanical latch block and long duration contactors.
– Set of high quality terminals for exterior connection.
– IP65 protection box made of ABS plastic for assembling in positive temperatures.
– Three-phase connection 3×380/400 VAC / N / PE.
Structure
– Anodized aluminum guides with dust free brushes and cable lodging (hidden cables).
– Extruded anodized aluminum lintel.
– Axis, support console and the rest of the fastening elements made in stainless steel.
– PVC canvas with interlining highly resistant nylon; 950 g/m2 weight, 1mm thickness, with two rows of windows.
Security
– Integrated transmitter-receiver photocell in guide.
– Security belt in accordance to current regulation (20kg of static pressure / 40kg or dynamic pressure), according to UNE EN12453:2000, with wireless system.
– Emergency stop with exterior and interior keypad.
– Handle and chain unblocking.
Optional Features
– Optional single-phase connection, with 200V, 110V or 60Hz
– Intermittent beacon
– Opening accessories
– Motor cover
– Uninterruptible power supply (UPS)
– Additional peepholes
– White lacquered profiles
– Optional hidden strips (inverted canvas)
– IP65 protection for motor