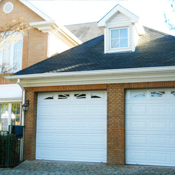 Residential garage doors are an alternative solution for your home's closing needs, because their features allow generating a thermal isolation, which will provide upper comfort.
Manufacturing and installation security, exclusiveness and quality features are in line with the highest standard, both in Chile as overseas.
FEATURES
– Panels manufactured with 24 caliber steel with high traction resistance.
– Standard paint colors.
– Exclusive security and quality features.
– Highest wind resistance standards, in terms of loading capacity.
ADVANTAGES
Residential garage doors combine beauty and elegance, providing comfort and security to your home. By adding windows or aluminum panels, the appearance will look more sophisticated.
PHOTO GALLERY: